Just finished up the first game ever with my 5 Year old son!
I used a slightly simplified version of the "StarCrashers" ruleset from Ironhands.com.
http://www.ironhands.com/starcrashers.htm
It's a nice simple game that focuses mostly on exploration via the revealing of blips but also has combat. Written for use with measuring sticks but I modified it for use with a hex grid. Also, instead of giving each ship 2 actions I gave them one move and other actions (attacking, revealing,etc) simply occured as they became possible.
Here's an overall view of the game. All units started from the neutral yellow starbase. My son is playing the ships he painted and I'm playing the two that have been spray painted blue.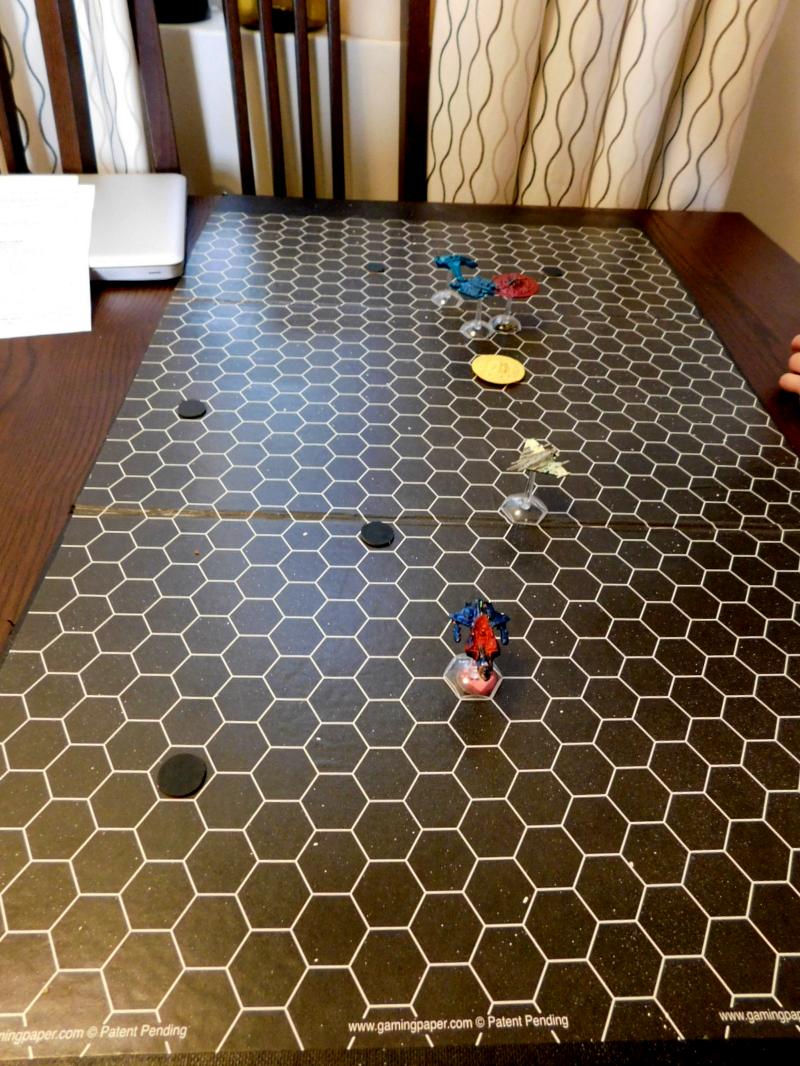 My son goes to investigate a blip and finds the "Emmisary" (currently under the base) which will net him one credit when he is returned to the starbase.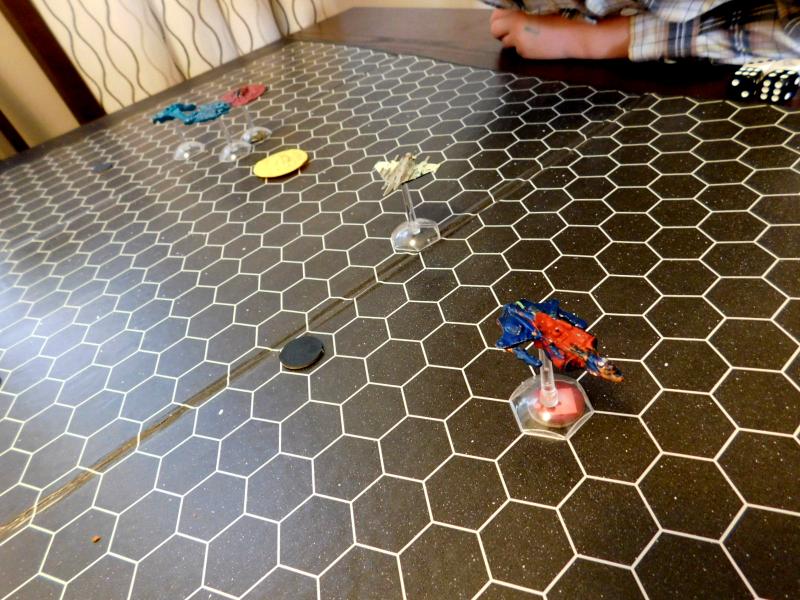 I reveal a blip and it turns out to be a pirate ship (red ship). My ship is crippled by the pirate and one credit is looted away from me but my compatriot cripples the Pirate and takes the credit back and earns a credit for crippling it.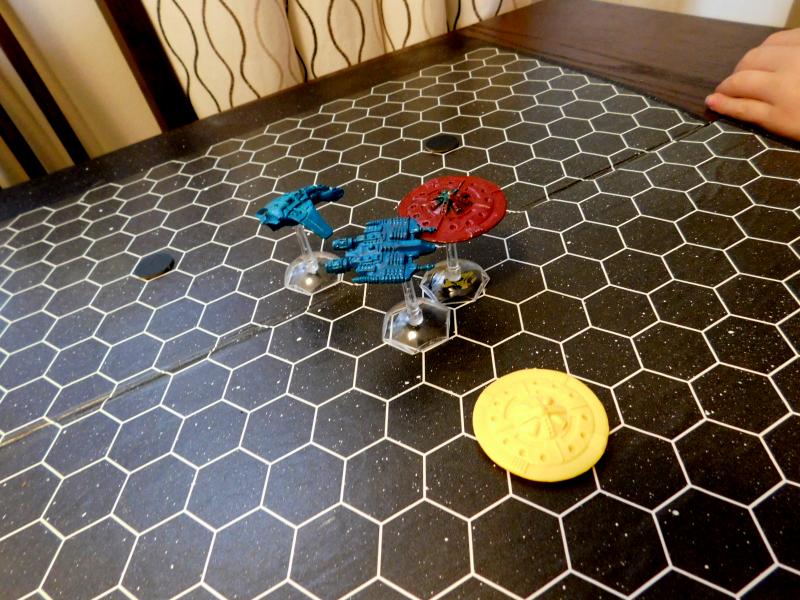 A couple of turns later one of my ships reveals a blip and gets sucked into a black hole where it spends the rest of the game trying to escape.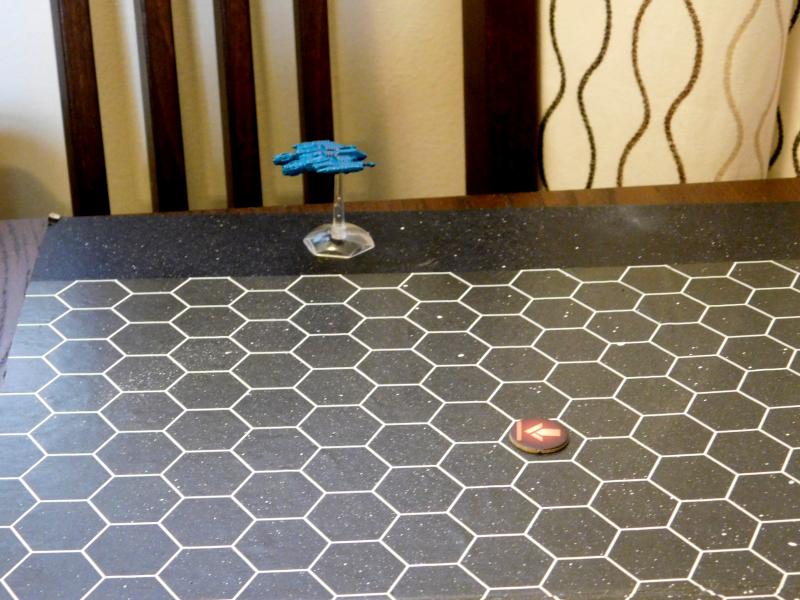 The end of the game turned into a race for the last blip. I got there first but the blip turned out to be another pirate who promptly crippled my ship and looted a credit from me. My son crippled the Pirate in the next turn netting him the credit for the ship and the credit the Pirate had stolen. The game ended with him defeating me 8 to 4.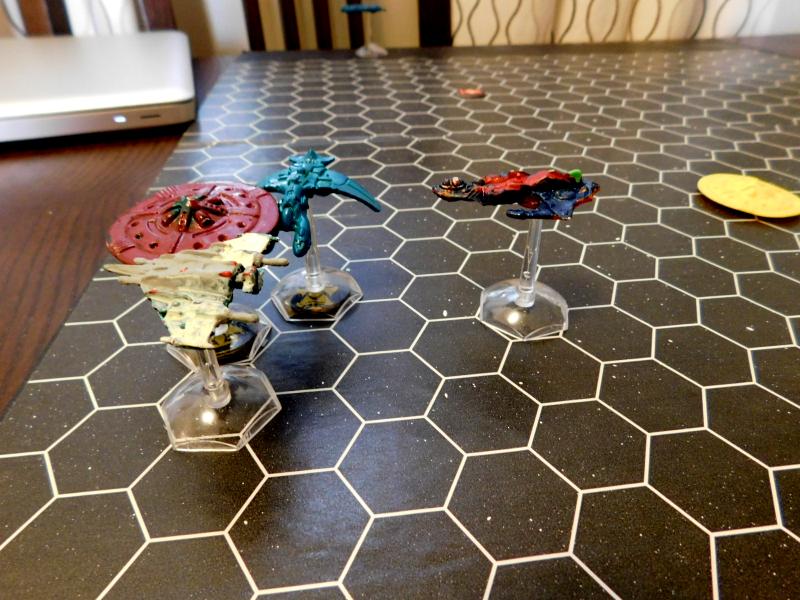 All in all it was a fun little game. It probably took us about 25 minutes to play. We only had 2 ships per side and 8 blips and the game could easily handle more of each. The game swung back and forth as we flipped blips resolved the situations and collected our credits. I think I would like to make an even larger board for next time.
I'm pretty happy with the ships too. They're cheap and probably polyethylene (use plastic-specific paint to prime) but they look pretty good and come in almost enough varieties (7 vs 8) to cover the ship types in Starcrashers. Plus, a bag of 144 gives me enough to use for the game, share with my friends, plenty for the kids to play with and all for about the cost of one gaming model.
Here's some of the counters we used for "blips" representing. Mines, Asteroids, Black Holes, Ray Storms, Pirates, Credits and others.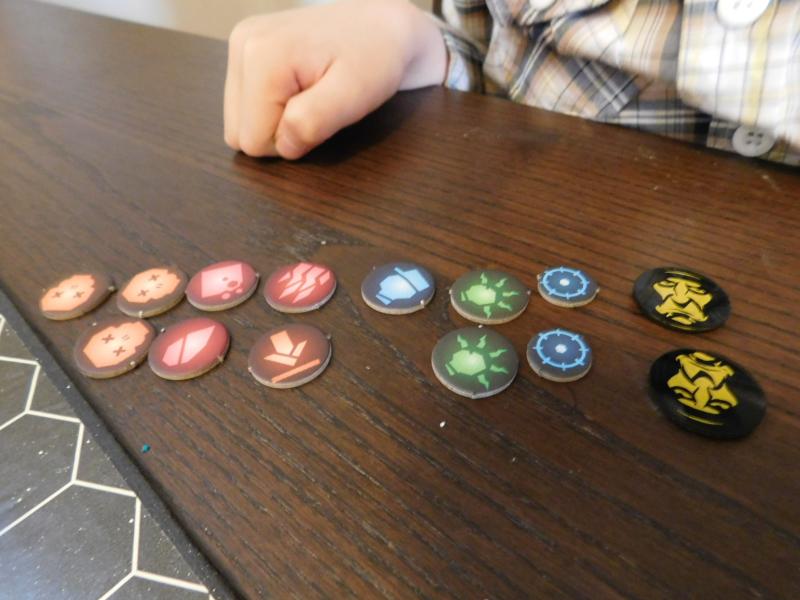 For those interested in the game components:
-The ships were from a bag of 144 cheap toy starships
http://www.amazon.com/Pack-144-Space-Sh ... spaceships
They've been extensively reviewed here:
http://www.dakkadakka.com/dakkaforum/po ... 89209.page
- I mounted them on EM4 flight stands which are quite affordable at around 10 cents each.
http://www.em4miniatures.com/acatalog/M ... BASES.html
-The board was a second hand Axis and Allies board. I glued "Gaming Paper" (basically thin gift wrap) black hex paper to the back side and flicked on a bit of white paint for the star background.
http://www.miniaturemarket.com/ggp0302.html
-The Counters are mostly from the "Sedition Wars" game (a great deal currently at $30 for 50 figures and a game)
http://www.amazon.com/Sedition-Wars-Bat ... ition+Wars